Nikki's Home Page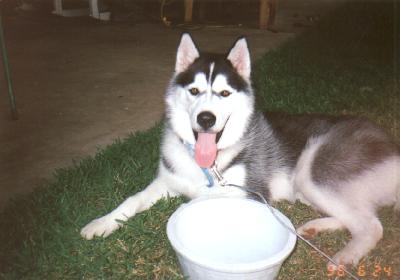 Hello, the picture above is Nikki, my pet Siberian Husky. I was lucky enough to get him from a coworker and I've enjoyed his company ever since.

Here are some stats on Nikki: He was born on Nov. 1995 and we both live in Dallas, Texas, where it gets very hot in the summer and very cold in the winter. Nikki weighs exactly 50lbs and is still as playful as a puppy. Nikki loves people especially children and loves to be the center of attention (the spoiled mutt that he is.)

Since he loves attention, I decided to give him his very own web page and share a little bit of him to anyone venturing around these parts. Though he probably doesn't know anything about the Internet or know that he's in it, it's probably safe to say that he wouldn't mind having his mug displayed for all to see.

Nikki and I appreciate your visit. Come back soon... Oh, if you want to send him email, please do so by clicking on the email icon.
Nikki's Photos

Cool Siberian Husky Links


How old are you in Dog years?

Last updated: 3/28/98